Your Child, 'Pester Power' and the Internet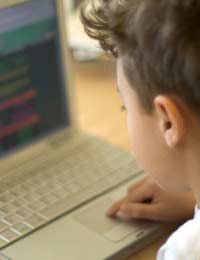 All parents are familiar with Pester Power, it's when your child sees something they want, in a shop, on an advert or in a magazine and start a campaign of 'pleeeeeaaaaase' until they wear you down, or forget about it and move onto the next thing.
But are you aware that the internet is being increasingly targeted by advertisers because they believe your child is part of a captive and receptive audience while they're online?
Under-Regulated
One of the main benefits to online advertising to kids is that it is still fairly unregulated. The advertising industry has a self regulating code of practice but this is a lot less stringent than the laws which govern what can and can't be said in a TV advert.
Television advertising is strictly controlled to ensure that there are no 'subliminal' images (ones that appear and disappear so quickly that your active mind doesn't see them but they register in your subliminal consciousness), that the volume doesn't exceed a set level and that there are no false claims. Internet advertising is far less strict.
Interactive
The internet is also interactive so if an advert is designed to look like a game then kids will engage with the brand and are more likely to remember it, and pass it on to their friends, than a traditional advert. TV advertising is almost always passive; internet advertising is most often active. Especially when advertising to kids.
Adverts that get forwarded by email are called 'Viral' campaigns and they are popular because they save the advertiser money. If you can get the consumer to forward your advertising message for you then you don't pay for advertising space and because it comes from a friend the recipient is more likely to engage with it.
Data Capture
Using the internet for interactive advertising also allows companies to collect information about your child, either directly by getting them to fill in a form after they've played a game, or indirectly through registering your IP address. This information can be used for market research and to target them for other adverts in future.
It's Their Space
The internet is a massive part of youth culture, teens shape and post much of the content and they understand its possibilities far more than adults. Increasingly advertisers are using kids to guide them, not just through market research but by identifying style leaders to spread the word for them.
These style leaders will be sent new products before they are released to 'trial them'. As part of 'trialing' them these kids generally take the products into school and talk about them online, giving the advertisers much needed exposure to an envious audience.
How to Tackle Online Pester Power
Part of the reason Pester Power works well on line is that kids are often online unsupervised, so you get the resulting 'I want, I want, I want…' without ever having seen the advert that brought it on.. If they're using a computer in a public space in your home you will at least be more aware of who is targeting your children and how.
Blocking pop ups will cut out a lot of adverts on kids' sites and disabling cookies will help prevent advertisers targeting your computer with more campaigns. But there are still the adverts that look like content, and the viral campaigns that will be forwarded by friends through email or social networking sites.
The only long term solution to Pester Power is to stick to your guns and say no. Whenever you get hit with a barrage of pestering talk to your child about how advertising works – they might not want to listen but they'll get bored of hearing the lecture every time they ask for a new toy.
You might also like...