Computer Crossword Puzzle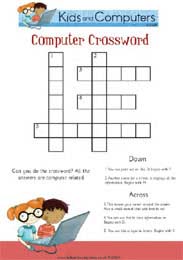 How well do you know your computer? Do you think you can name all the parts and how it fits together?
Sally and Peter are trying to complete this crossword puzzle, but keep getting a bit stuck. Do you think you can help them put the right words in the boxes?
All the clues are on the puzzle and the answers are all computer related - why not have a go and see how much you really know about your PC!
Why not Download the Computer Crossword Puzzle and see if you can figure out which words go where.
For Parents
This activity is aimed at 5 to 8 year olds, it's a fun way to teach children the basics of computing, as well helping to build their reading and problem solving skills.
We have many other games and puzzles in the Download section which can be reached from the sidebar on the left. All our printable puzzles are completely free and are great to keep on hand for kids to do at any time, or as a fun rainy day activity.
All of our puzzles are supplied as a pdf so you'll need to have Adobe Acrobat installed on your system. If you haven't, Google it and you'll find lots of places and instructions on how to get it.
You might also like...
@slm - thanks for highlighting the problem - we are looking into this.
KidsAndComputers
- 24-Mar-15 @ 11:41 AM
The crossword puzzle down loan is blank!
slm
- 20-Mar-15 @ 7:05 PM
  Hello    My name is Nettie Stone, I am a part time writer and full time mum! I have been writing for as long as I can remember, on different topics, but recently I've been focusing my attention on writing about children and babies. I've recently started writing for blogs and was looking to see if you were interested in a mutually beneficial partnership where you share my work. I was hoping that you might consider me as a contributor on your site, I would not expect any payment.(I'm just looking for a little exposure!) Here are some ideas I had in mind for an article: -         Which toys are best for babies? Looking at positive cognitive effects.       -         Tips on how to balance a career and a young family -          Best places to take a baby for a summer holiday       What do you think? Look forward to hearing from you soon. Warm Regards Nettie
Nettie Stone
- 5-Jun-14 @ 2:47 PM