Kids, Homework and Computers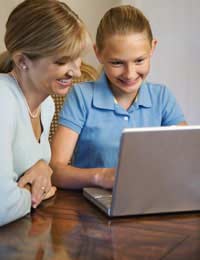 Homework is one of childhood's constants, whether it's learning to read or learning about nuclear fission.
Today's children have the benefit of the Internet for research, and home computers to improve their presentation skills, but are computers always a help when it comes to homework? Or can they get in the way of what they're supposed to be learning?
Is That Really Homework?
However interesting a school project might be it will have to fight for attention with social networking sites, computer games and instant messenger. If your child has a computer in his or her room how do you know what proportion of their computer time is actually spent working on school work? Computers (and the Internet especially) can be as much a distraction as a help.
Lay down definite guidelines about how your child uses their computer. Set a time limit for the amount of time they can use the computer each day (experts recommend that screen time including TV should be no more than two hours a day) and reinforce your expectation that they should complete their homework before they play games or chat with friends.
Ask to see the work they have completed to check that they aren't rushing through homework to get it out of the way, or pretending to have finished it when they haven't.
Computers Can Encourage Good Presentation
Handing in clear, well presented homework is a good habit to get into but not at the expense of clear thinking, problem solving or creative writing. Some children will get caught up in making their homework look perfect using all the wonderful tools that computer software can offer, leaving them no time to actually complete the assignment.
When we were at school there were always people who had perfect handwriting and used multi-coloured ink and underlining, but the quality of their work was often substandard with the decoration used as a means to disguise the lack of content.
Presentation is important but correct spelling and grammar will earn your child higher grades than a fancy border.
Avoiding Plagiarism
With the wealth of information the Internet has to offer your child can research their subject thoroughly and explore areas of interest much more deeply than they would if relying just on library books and periodicals.
However the temptation for some children (especially teens) is to copy and paste chunks of text and pass the work off as their own.
This is plagiarism and will, if discovered, cause your child to fail that piece of work and possibly be withdrawn from important exams. Any quoted work has to be properly referenced and this is a skill it is well worth your child learning at an early age.
The more sinister side to Internet cheating is big business for some students who buy homework from websites either 'off the shelf' answers or, for a price, more tailored work that fits the customer's style. Cheating in this way or plagiarising other work may seem the easier option but schools and outside examiners are tightening their controls to put a stop to it.
Make sure that your child understands why it is better to hand in their own work, even if it means a lower grade, than it is to risk getting caught out as a cheat.
You might also like...
hello could like home work for my 10 year old son like maths english writing thank you
pizza
- 30-Jun-15 @ 7:17 PM