Your Toddler and your Computer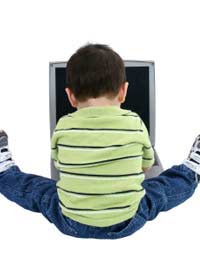 With around two thirds of UK households now owning a home computer many people are confronted with how best to deal with energetic toddlers and complicated equipment. Should you lock your computer up and keep it out of reach, or introduce your toddler to computing at an early age?
There are benefits and potential drawbacks to both options, but by planning ahead you can avoid some of the pit falls (dribble on your laptop keyboard?) and get the best introduction for your child.
The Right Kit
The first thing to consider is how incredible destructive toddlers, even well behaved ones, can be. Ask yourself if you can survive without your computer? Will it matter if it gets broken? How much will it cost to replace?
If you have an expensive, and often fragile computer set up, it's probably a good idea to keep it out of sight and reach. Instead get a bottom of the range or reconditioned computer just for your child. Another benefit of having separate computers is that you strip theirs down to the bare essentials, taking off the internet and any other inappropriate software until they are older.
There is a lot of toddler friendly computer equipment on the market, from fun, robust colourful toddler laptops to keyboards with bigger keys in bright colours and mini mice for smaller hands. But, if you don't want to spend a fortune on hardware that will get bashed, covered in food and dropped on a daily basis just stick to the basics.
If you like the idea of bright coloured keys to guide your toddler's learning process you could always customise a standard keyboard with bright stickers to identify where the letters and numbers are?
The Right Set-Up
One of the worries about introducing kids to computers as toddlers is the potential damage it can do to their posture. Adults have long been aware of the back and neck problems associated with spending long periods of time sitting at a computer desk. Kids have the same issues but with further reaching consequences as their spines are still developing.
To protect your toddler make sure that any time they do spend on the computer is limited. Most kids won't sit still for more than 10 minutes anyway but health practitioners say that 30 minutes should be the maximum for a single session for a pre-schooler.
To give them the best possible start, make sure that their desk and chair are the right size, and that they have good lighting. A desktop computer and monitor offers a more flexible set up than a lap top as you can align the monitor at the right height relative to the keyboard whereas a small child (and many adults) is more likely to slump down in front of a laptop to be closer to the action on screen.
The Right Activities
If you decide you do want to get your toddler computing then make the most of some of the great toddler-friendly software on the market, much of it available online. From fun activity websites that tie in to their favourite TV programmes to educational software that develops eye-hand coordination and problem solving skills there are hundreds of options out there.
At the most basic there are games that introduce the idea of cause and effect, depending which key your toddler hits a different sound or colour flash will occur. This might seem to have little educational impact but learning how the keyboard relates to the screen is one of the key computer skills we learn, quickly followed by how the mouse ties it all together.
The Right Approach
Tests have shown that some early age computer users are more able in later years to grasp computer concepts, and that it can deliver an academic edge. Other tests have shown though that early computer use can inhibit learning in different areas.
One thing that all child education and pre-school specialists agree on is that the computer should be used as an additional activity to the traditional childhood pastimes. A computer is no substitute for hands on activities such as playing with modelling clay, learning how to interact with others or riding a bike.
In moderation, and with the right encouragement, choice of activities and supervision, your toddler will get a lot out of playing on a computer. But you might regret it in later years when you can't get on your own computer because your computer savvy child has reprogrammed it to fly a remote controlled helicopter around the living room.
You might also like...
Learning in computer and other technology is upgrading self and easy attractive learning for young kids but with parents or educators approvals only..
KOGI
- 12-Jun-21 @ 2:23 PM
Pembelajaran ict menarik dan menyeronokkan sistem pembelajaran kanak kanak.
KOGI
- 12-Jun-21 @ 2:17 PM
Pembelajaran menggunakan telefon actually tiada masalah jika guna dengan betul dan masa yang sistematik
seha
- 30-Mar-21 @ 4:00 PM
Learning using computer or smartphone is quite more interesting and easy to learn.
Farhanis
- 24-Aug-20 @ 1:48 PM
Learning using computer or smartphone is quite more interesting and easy to learn
Mus
- 24-Aug-20 @ 9:14 AM
learning by computer is creating wonderful patern of learning.
eyma
- 23-Aug-20 @ 10:19 AM