The Best of the Internet for Kids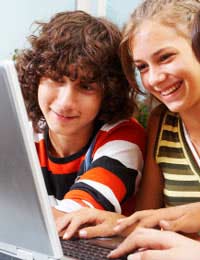 There's a lot of information available about how to keep your child safe from predators online, and lists of all the many things you need to steer them away from. But there are also loads of really great websites designed specially for kids that will stimulate, educate and nurture your child's imagination.
Pre-School
If you want your child to grow up fully equipped for the digital age then get them started using the computer early.
Most experts agree that around two is the youngest that children get any kind of benefit from using a computer. Before that they might be able to hit a key and enjoy seeing something happen on screen but they don't have a strong enough grasp of cause and effect to understand what's really going on.
By two they should be able to use a mouse (although consider getting them a special smaller mouse to make it easier to for small hands to manipulate) and will be able to move around a simple website under supervision.
Most UK pre-school TV programmes have websites which transfer the characters and environment from the television to the computer. They are simple to use with lots of 'rewards' in the shape of songs, bright colours and friendly characters. Many will have downloadable activity sheets for colouring in. These sites (and the original programmes) are often created in conjunction with educationalists and are designed to promote positive development.
Primary School
From the age of four children should be able to navigate simple websites on their own (with you on hand to help if they get stuck). There are loads of educational play sites that are designed to help reinforce what young children are learning at school. Activities to enhance Maths and Literacy skills are often embedded in games making learning fun.
For older Primary school children there are specially designed websites on every subject. Whether your 7 year old want to be an astronaut or a vet there will be a well designed website to help them explore their interests activities to improve problem solving, motor skills, memory and spatial awareness
Secondary School
Once your child hits secondary school you'll have less control over their activities online but you can still steer them in the right direction. If your child is particularly computer savvy steer them towards 'build your own website' sites to encourage them to explore how the internet works and learn basic programming and html.
For less technical children there are sites that focus on editing photos or film or music, taking the user through each step to create their own project. Even young teens are caught up in the craze of posting content on the internet and if your child is posting content they have actually created then it becomes a positive experience rather than a sharing of often crass, embarrassing or inappropriate images and films!
The internet can also be a huge resource for older kids' school projects so be wary of filtering their access to heavily – if they are blocked from sites that they have a legitimate reason to visit they will become frustrated by your controls and, in many cases, probably work out how to disable it!
You might also like...