Fact Sheet: Setting Up a Computer for Your Child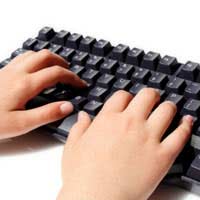 Getting the right set up for your child's computer could make a huge difference to their future computer use. This fact sheet should help you get them off to a good start.
Screen Time Should be Limited to 2-3 Hours Per Day – Including TV
One of the first principles you need to enforce when your child starts using a computer is the amount of time you are happy with them spending in front of the monitor. Experts recommend that children should spend no more than 3 hours 'screen time' per day and this includes TV, video games and other activities that involved concentrating on a screen.
Get Your Child in the Habit of Sitting Properly at a Desk, Ideally in a Chair Small Enough That Their Feet Touch the Floor
Any activity that involves holding the same position for extended periods can lead to postural problems if bad habits are allowed to develop. By getting your child in the habit of sitting properly in a proper computer chair at a desk you will save them years of back ache in later life and avoid serious developmental difficulties.
If you can't find a chair small enough to allow your child's feet to touch the ground position a footstool in front of the chair so they can rest their feet firmly on a stable surface.
Make Sure Your Child is Reading the Screen From a Distance of 18-28 Inches
As with watching TV, staring at a computer screen can lead to eye strain –especially if your child is too close to the screen. Having a properly set up desktop computer (as above) rather than a laptop makes this much easier to control.
Using the Wrong Size Mouse Can Lead to RSI Related Injuries
RSI (or repetitive strain injury) is caused when a muscle or joint is subjected to repeated strain without time to recover. By setting your child's computer up at a desk you will help guard against back, neck and wrist problems but something as small as a mouse can be problematic if your child is struggling to grip it naturally and having to strain to control it. Child sized 'mice' are widely available and, as well as protecting your child from RSI can make learning to point and click far easier.
Make Sure the Monitor is the Right Height for Your Child.
The top of the monitor should be level with the top of the user's forehead so they are looking straight at the screen rather than putting undue stress on their neck by having to look up or down at it for prolonged periods. If your computer is used by all the family it might be advisable to get a monitor that is easily adjustable.
Make it Easy for Your Child to Find What They're Looking For
Once your child has learnt the basics you can start to leave them to explore the computer on their own. Set up shortcuts to their programmes on the desktop so they are easy to access and, if they're using a shared computer make sure that everything else is password protected and safe from curious eyes.
Internet Security Software Can be Configured For Different Computer Users
If your child is going to be using the Internet invest in some security software. For shared computers there are packages that let you set up personalised profiles for different users making it suitable for children and adults to use the same terminal.
You might also like...
"By getting your child in the habit of sitting properly in a proper computer chair at a desk you will save them years of back ache in later life and avoid serious developmental difficulties."It'll save them the challenge of changing the habits of a lifetime as well. If you've been slouching at a desk all your life, being forced to sit up straight is going to feel downright unnatural. Better to ingrain goods habits early on. That way, it'll be the poor habits that feel unnatural and uncomfortable. And it isn't just limiting time spent on the computer, taking breaks is important too. You can have the best workstation organisation in the world but if you're spending long, uninterrupted periods of time on it, you're still going to run into trouble. Again, taking breaks is a habit best ingrained at a young age. Not the three-hour tea break variety but a few minutes to stand up and stretch, to focus the eyes elsewhere.
Nathan
- 19-Jun-12 @ 3:42 PM