Get your Child the Right Equipment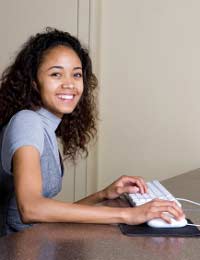 Using a computer can open new worlds to children, teach them new skills and help them achieve better grades at school. But children grow quickly and a computer set up that is appropriate for a teen won't be appropriate for a younger child.
To make sure your child's introduction to computers is healthy, safe and user friendly get the right set up.
Physical Fit
Children are even more susceptible to back problems from bad posture than adults. Their skeletons are still developing and poor posture can directly lead to problems in later life.
Whatever age (or size) your child is they should be able to sit with their feet squarely on the ground with their forearms at 90 degrees on the keyboard. If you have more than one child, or a shared family computer you can get a footstool for smaller children to rest their feet on so they can use the computer on an adult sized desk.
While a laptop might seem to be the solution a desk top set up is better as the screen height and angle can be changed. Laptops are also more fragile than desk tops as if one component (for example the key board) gets broken the whole set up needs to be fixed.
Child Friendly Add-Ons
Using a desktop set up has other advantages as you can give younger children a 'child-friendly' keyboard. Ideal for pre-schoolers and early years infants these keyboards are simpler with colour coded keys rather than letters. The keys are also easier to press and sturdy enough to withstand a toddler tantrum!
Miniature 'mice' can also help smaller kids get to grips with computing. A standard mouse is too large to easily grip and the buttons are often not obvious.
Teen Freedom
It's part of teenage life to want to have privacy and it's part of a parent's life to learn to let go. Your teen will want a private email account and the freedom to visit websites as and when they want to, without asking your permission each time.
At this point it's worth investing in Internet monitoring software so you can keep an eye on how they're spending their Internet time and the types of site they're visiting. This will give them the freedom to surf the net but within the knowledge that you will know if they start looking at porn, or visiting other inappropriate sites.
Whether to let your teen have a computer in their bedroom is an issue that worries many parents. The downsides seem to far outweigh the benefits. Does a bit of peace and quiet, and a happier teenager make up for the loss of control you'll have?
It's a personal decision and only you know how self disciplined your teen is when it comes to homework, time spent on the computer and getting a balanced life. A compromise could be having the computer in a semi-private area if you have one rather than in their room or the living room? A cupboard under the stairs can be converted to a mini study, or a spare bedroom if you have one.
You might also like...