New Technology - Computers for Kids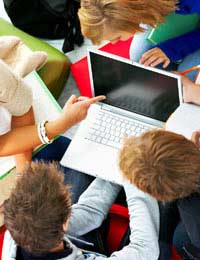 As more and more families get home computers, and more kids start computing early, manufacturers have started making computer equipment specifically designed for children. While a standard desk top computer will do everything your child needs it to, some of the new technologies do have their advantages.
Laptops For Children
There are laptops designed for children available for under £20. Obviously they don't have the same capabilities as a 'real' computer but if your kids are under five they will don't need anywhere near that level of functionality.
Kids' computers often come preloaded with fun, educational software that is designed to help the child learn to use the computer unaided. Programmes, or games, tend to focus on reading, simple maths, language and music activities.
Some of these kids' computers look like real grown up laptops while others are brightly coloured and branded with favourite kids' characters. Sadly most of the branded computers seem to be pink to target girls, suggesting that boys are happy to use a real computer while girls will only be interested if their computer is sugar pink.
At the top end of the children's technology market you can buy proper laptops that run a full windows operating system but are smaller and more robust than an adult laptop. They come preloaded with National Curriculum related software and games but will cost around the £200 mark.
Desktop Computers For Kids
Health specialists believe that desktop computers are better for children as they can be set up at the appropriate height and distance for the child whereas a laptop is a fixed set up that can encourage poor posture.
There are less kids' desktop computers but they do exist and, like their smaller more portable equivalents, are preloaded with educational games and activities. Prices range from around the £20 mark up to the same price you would pay for an adult computer and the difference in capabilities is as broad.
If you're thinking of investing a bit of money in your child's computer it probably makes sense to buy a low spec or reconditioned 'normal' computer and set it up with a child's keyboard and mouse. If they treat the computer with a bit of respect it should see them through a few years and will adapt with them as they grow. The specially designed kids computers do have their limitations.
The Dangers Of Technology
We live in a techno-world where most people are computer savvy and our children will never have known any different. Some people argue that this cyber world we're creating will damage our children's ability to tell reality from the world inside the computer.
By designing technologies specifically aimed at children we're teaching them to consume technology from a very early age. It may be healthier for our kids to make do with our harder to use adult computers rather than launching straight into the world of addictively accessible and stimulating computers that are designed to teach them how to think about computers.
Having said that, many of these kids' computers are just toys. They don't have the power to amaze and will soon run out of battery and be left at the bottom of the toy box while the child moves onto a new 'gadget'.
You might also like...