Protect Your Computer from Your Child!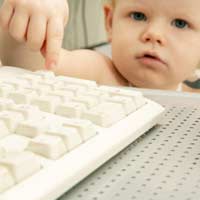 You might want to give your child a good start in life by getting them using the computer early. Or you might have teens who can endlessly surf the Internet and chat to friends online. But how do you protect your computer from your children well enough that it will still be working when you finally get your turn?
Toddlers And Their Tantrums
Toddlers and Pre-schoolers shouldn't be using the computer unaccompanied so it's easy enough to manage their behaviour up to a point. Unfortunately even when you're there you can't always tell when they're going to get bored of watching the pretty images on the screen and decide they want to batter the keyboard with a toy car. For this reason (along with dribble and sticky hands) get them a spare keyboard and switch between the two.
There are keyboards on the market that are specifically designed for toddlers. They are smaller, have fewer keys, are colour coded and look more appealing to children, but you could just buy a reconditioned standard keyboard and cover the keys they use most often with a bright coloured sticker
Game Playing School Kids
School aged children are often fairly responsible users as they understand that computers are physically breakable but haven't yet discovered the wonders of dodgy software downloaded on the Internet. The biggest threat they present is through playing games which require a repetitive button pressing or mouse clicking. Lots of fairly simple games use the space bar as a 'Fire' function and it can get a violent hammering.
Again, a cheap reconditioned keyboard will prolong the life of your keyboard, but it's also worth trying to get across the message that it doesn't matter how hard you hit the keys. It's the reaction time not the force that's important.
Curious Teens
Most teens are fairly computer literate and understand that the physical structure of the computer is easily damaged and expensive to fix. Unfortunately they are also endlessly curious and will find a million add-ons, applications and .exe files with which to threaten your computer's inner workings.
For total safety block all users apart from a password protected administrator (you) from installing any software, and install Internet monitoring software so that you can see exactly what your teen is doing online, this will protect your teen from things they shouldn't be seeing and protect your computer from exposure to viruses, hackers and other computer nasties.
On top of this, make sure that you back up regularly so that if anything does go wrong you don't lose everything.
Go Public
The easiest way to protect your computer is to make sure that it's in a public place within the house. Children (and teens) moderate their behaviour when you are around so your computer will be more kindly treated if it's somewhere you're likely to walk in on them with no warning.
Having said all that, basic computers can be picked up fairly cheaply these days. If you have more than one child and your computer is a vital part of your life, then consider getting a budget version for them to learn on and play on and keep your computer (and its files) safe for longer.
You might also like...