Can Computer Games help Improve Reaction Times?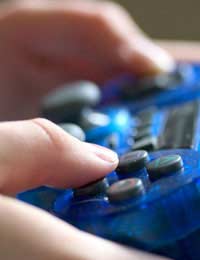 Kids, especially boys, love computer games but they have a really bad reputation for increasing aggressive and anti-social behaviour, contributing to childhood obesity and stunting kids' ability to socially interact.
Over-use of computer games (or indeed any single activity) can create developmental problems and even addictions, but when usage is controlled there is substantial evidence to suggest that computer games and games consoles can have a positive impact on our children's learning skills
Improved Reaction Times
Your reaction time is the time that elapses between your brain receiving a sensory stimulus, whether it's an image, a noise or a touch, and processing a reaction to it. Heightened reactions improve our motor skills and our decision making processes.
In children, a nursery school study showed that the children with regular experience of playing computer or video games demonstrated much better average reaction times than non-players when asked to identify different colours and shapes in similar pictures.
Studies suggest that game-play can improve hand-eye coordination leading to better reflexes. Games with multiple button controls and fast paced action have the highest impact as the player becomes accustomed to processing multiple bits of information simultaneously.
Computer Games as Educational Aids
Increasingly educationalists are turning to interactive tools to engage children, including computer games. Simulation and adventure style games have been linked to significant improvements in children's strategic thinking and planning skills, where faster paced action and platform games help to develop information processing abilities.
Many educational games are only appropriate for younger children as older kids will be bored by them, but even non-educational software can deliver definite advantages.
Other Benefits
As well as improved reaction times a study at the University of Rochester has demonstrated game-players have better vision. The study showed that people who played computer games regularly over the course of one month showed an improvement in their ability to identify letters 'presented in a clutter'. This translates to a significant improvement in their ability to read the bottom line of a standard eye chart.
This improvement is linked, not to the actual eye, but to the way we process visual information. Computer game play increases our 'spatial resolution' so we can identify specific figures more clearly.
Why Improve Reaction Times?
As well as educational advantages improved reactions follow through to better sports performances. Many sports depend on the ability to read a situation, anticipate your opponent's next move and react more quickly than they do. This is exactly the mental process that computer games mimic and practice on or off the field does make a difference.
Better reaction times might also keep your child safe if they can think on their feet in dangerous situations. Cyclists and pedestrians need good reaction times to process all the visual and aural information they are receiving from the traffic around them.
The down side to honing your reaction times through computer games rather than in physical activity is they don't deliver the same aerobic health benefits so you still need to get your child up off the sofa and out onto the sports' field – however beneficial they claim their computer game playing can be.
You might also like...