Are Computers the Future of Home-Schooling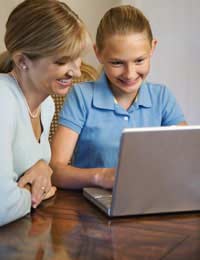 Home Schooling has been around as long as we've had schools, and for girls it used to be the only option. According to the Department for Education and Skills there are approximately 100,000 children in the UK currently being educated at home, roughly one percent of the school aged population.
Arguments over the benefits and problems of Home Schooling have raged for years but the increase of computer-based learning could change the way children are taught. If computers are the future of home schooling what impact will this have on the children involved? Also, will it encourage more parents to take their children out of school?
Who Chooses Home Schooling?
Many parents choose home schooling for their children because they want to be able to control what they learn and the influences they are exposed to either for religious or cultural reasons. Some children are home schooled for health reasons, others because the local schools are considered sub-standard, but all parents who home school do so because they believe their child will benefit from being taken out of mainstream education.
With two thirds of UK homes being connected to the internet parents who want to home school no longer need to have personal knowledge and understanding of the National Curriculum. Masses of information exists and there are websites and software packages dedicated to educating our children.
The Benefits
The use of computers in home schooling gives children access to much information that would previously only have been available to schools. It also gives parent-teachers access to teaching advice and guidelines, helping to keep home schooled kids level with their school-educated peers.
The computer, and particularly the internet, also fill the gaps in the parent-teacher's knowledge base theoretically giving the child a broader education than they would have received working solely from books.
As formal education comes to rely increasingly on computers students often have to share equipment, as there are not enough terminals in many state school classes to go round. Home education lets parent-teachers tailor lesson plans to individual children often giving them one-on-one tuition.
The Problems
One of the arguments against home schooling has always been the quality of any education depends on the teacher. In formal education it is likely that children will have a different teacher every year with teachers specialising in different subjects. At home the parent teacher stays the same. In the hands of a poor teacher the computer's potential will be unrealised, as the child will not learn how to get the most from it as a resource.
Computers are only as good as the person using them, and the software being used. The danger of computers in home schooling is that the parent-teacher sets up the child for their 'lesson' and then leaves the computer to get on with teaching them. Unsupervised or unguided computer use will be far less beneficial than structured lesson plans with input from a teacher.
Computers have a huge amount to offer as educational tools and can broaden the educational spectrum of home schooled children. They can't resolve the strongest argument against home schooling though, which is that children need to be with other children in order to learn social skills. In fact a heavy reliance on computers could reinforce the solitary nature of home schooling creating further problems in later life.>
You might also like...