The Computer as a Learning Tool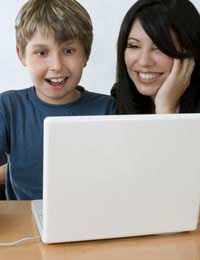 Computers, if used well, can deliver incredible opportunities for learning – especially when harnessed to the internet. So how do you get the most from your computer for your child?
Explore The World
The internet can open up new worlds and allow curious minds to explore hundreds of topics. From their existing interests such as football or music to new finds like astronomy or gardening. One of things the internet does best is shrink the world bringing us in touch with other cultures, geographies and experiences.
Whatever your child's daily interests they can tap into this amazing resource to discover things that only 20 years ago would have been impossible for a child to access.
Children respond well to activity based stimulus and the internet can make a seemingly boring project exciting. With the right guidance our children can explore the world from their classrooms, living rooms and bedrooms.
Languages And Learning
As part of this educational exploration, foreign language learning can be transformed from passive vocabulary repetition into an interactive process. Child friendly language software reduces the process of learning down to bite sized pieces but keeps them engaged through regular rewards for correct answers and stimulating imagery. Learning through play is widely acknowledged as an effective way to absorb new information – especially when learning languages or other memory based skills.
History, for example can be made far more engaging through interactive exploration than simple memorisation of facts. The visual capabilities of computer software are far more engaging than static text and are able to keep a child's attention for longer than all but the most outstanding teachers
Brainwaves
Studies have shown that regular moderate computer use, and even computer game play, can help improve strategic thinking, problem solving and motor skills. Children who struggle to engage in traditional classroom situations are more able to focus when they are given an interactive interface.
Computers can also bring real educational advantages to children with special needs and learning difficulties. In some situations technology aided learning can enable students with special needs to participate, and succeed, in mainstream education. This is not only an educational benefit but also a social one as previously isolated children can interact with their peers.
Future Learning
As schools become more technologically equipped and learning becomes increasingly computer focused the ability to use a computer will become more important. Some studies show that children who start school with no prior computer experience often struggle to catch up with their more computer savvy peers. However, other studies show that computer use too early can inhibit normal pre-school development.
Our challenge for the future is to balance the amount of time our kids spend in front of a computer screen with a wide range of physical and social activities. It's important that we don't forget that however effective a computer can be it can't teach us everything.
It's also important to remember that a computer can only become a learning tool with the right software and instruction. Without these the computer becomes as engaging as a blank chalkboard.
You might also like...