When does Homework Research become Plagiarism?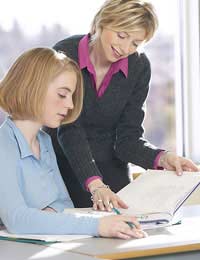 Plagiarism of internet content is rife, and not just in school work. The wealth of information on the internet makes it tempting for school children to 'borrow' other people's work and pass it off as their own. So where is the line between background information and plagiarism?
Unintentional Plagiarism
Sometimes plagiarism can be accidental. In a research assignment your child might have read various documents online (or in books) and written notes about what they've read. When it comes to write their assignment they then use the notes to write their document. If the note taking was very specific they might end up copying someone else's work into their own project without attributing it to the right source.
Correct form would involve footnoting every source and including a bibliography but this is probably beyond most young children. Using quotation marks is a good habit to get into though, if only because it will show them how much of their essay is taken from other people's thoughts and how much is their own interpretation.
Intentional Plagiarism
Less excusable is the intentional plagiarism of entire essays, or chunks of text copied and pasted into a document. The temptation is to put the assignment title into a search engine and then copy the results that best fit the question into the homework document but this is usually glaringly obvious to teachers and will result in your child being branded a cheat.
Why Cheat?
The main reason for children to cheat in this way is fear of failure. This might be because they're struggling at school, or just don't understand the subject. If this is the case try to find the point where they got lost; there might be a simple fix. If they are seriously worried about their school performance speak to their teachers.
Another reason for fear of failure is that they feel too much pressure to succeed. Often very bright children are tempted to cheat if they feel they will not meet their usually high standards.
Quick Check
If you have time, and your child is willing, check over their homework occasionally. This will let you know that they're doing their best and also give you the opportunity to check for plagiarism before it gets handed in at school.
You know how articulate your child is and a giveaway for plagiarism is often the use of vocabulary that is out of their normal range. If you're suspicious of a string of words that look out of place copy them into a search engine. If they're plagiarised the results will come up with exactly that string – and possibly the whole paragraph.
Often homework is designed to expand children's ability to take a piece of information, process it and interpret it in their own words. In this case not only is plagiarism cheating it's also not addressing the homework question and this will be as obvious to your child's teacher as it is to you.
The internet can bring real depth to research based homework assignments but explain the difference to your child between using information to develop or substantiate their ideas and copying and pasting chunks of text because they don't understand (or are too busy or lazy to think about it). Formal examiners are becoming ever more stringent about plagiarism and your child needs to learn early on that this isn't a long term solution.
You might also like...