Your Child and Internet Bullying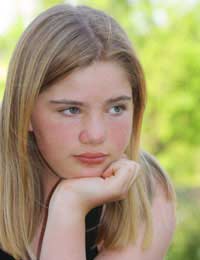 The internet can be a wonderful research tool and is home to some great entertainment but it is only as positive as the people who use it. Unfortunately playground bullying has found a new home on the internet which allows bullies to taunt their victims all the time, and reach a wider audience with their 'pranks'. Some cases of Cyber Bullying have been cited as major influences in recent child suicides.
What Is Cyber Bullying
Essentially Cyber bullying is the same as Bullying but it takes place by phone or email or through websites. Bullies will tease, taunt and threaten their victims with humiliation and isolation as their most successful weapons.
Cyber bullying might be as simple as teasing or threatening texts and emails but more complicated situations have involved the bully setting up a website (or a profile, poll or game on an existing social networking site) dedicated to humiliating their victim. Posting embarrassing pictures, rumours and taunts spreads the effect of the bullying far wider than playground bullying as the victim cannot escape the taunts, even in their own room.
Is Your Child Being Cyber Bullied?
According to children's charity NCH one in four children in the UK has been a target of some form of Cyber Bullying, and one third of the children surveyed said they hadn't told anyone. So how do you know if your child is a victim of cyber bullying? This check list of symptoms might help:
Does your child seem reluctant to use the computer or check their messages?
Does your child appear nervous or anxious when checking emails or phone messages?
Do they seem unhappy after having used the computer or phone?
Are they having trouble sleeping or having bad dreams?
Is their schoolwork suffering?
Are they avoiding socialising with friends outside of school?
Part of the problem with bullying (on or offline) is that it isolates the child because their friends will often join in the laughter – often through fear of being bullied themselves. Bullied children find it hard to trust that not every body is laughing at them behind their back.
Is Your Child A Cyber Bully?
All parents hate to think of their child being bullied, but we would also find it hard to recognise bullying behaviour in our own children. If your child is a Cyber Bully they are probably using your computer (unless you have bought them their own), your internet access and your home to torment and humiliate other children. So how can you identify and tackle bullying behaviour in your child?
Most Cyber Bullies will have multiple email accounts and may have more than one mobile. Emails and phones will both be registered in other people's names. Cyber bullies will use the computer often, and will usually exhibit real excitement at what they are doing online. If you walk past your child while they are on the computer and they hide what they're working on by switching screens or minimising their internet browser then they are hiding something from you. Most Cyber bullies will be evasive about what they're using the computer for when questioned which proves that they know what they're doing is wrong.
In some instances installing software that monitors your child's usage might be enough of a deterrent to put them off, but this might just push the behaviour out of the house or onto a secret phone over which you have less control.
If you believe your child is a bully it is your responsibility to address the issue and tackle their behaviour. Cyber bullying can have extreme consequences that a child might not have thought about. Make sure that your child is aware of the impact their actions might have.
You might also like...