Disturbing Internet Content and your Child, How to Handle it.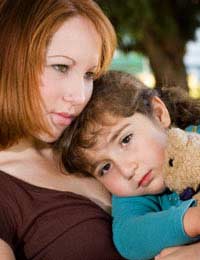 The internet is largely self regulating which means that there are thousands (if not millions) of pages of content that are inappropriate for children to view. It is recommended that younger children's internet use is supervised but it is impossible to control everything that school age children view – even with internet nanny software installed.
So if your child does see something disturbing online how should you handle it?
How Likely Is It?
The NSPCC recently undertook a survey which suggested that 3 out of 4 children in the UK have seen something on the internet that disturbed them. Examples included violent and sexual content on totally accessible sites and cites one example of a child searching for 'animal pictures' which brought up explicit adverts for animal pornography websites.
If these figures are to be believed it is more likely that your child will see something disturbing than not. You can reduce the volume of inappropriate content available to view by installing internet security software but this will only filter content rather than guaranteeing a clean slate.
Talk To Them About The Internet
With this number of children affected by seeing disturbing content online it's better to talk to your child now, rather than wait for them to tell you what they've seen. Different children will be affected in different ways, from nightmares to withdrawing from social contact to re-enacting what they have seen with their toys.
Often children will be so disturbed by what they see that they can't talk about it because they feel they are at fault, or they don't have the words to describe it.
It can be difficult to talk to your child about what they might see but the key message they should take away from your conversation is that if they see or read anything, on or offline that upsets or disturbs them they should feel able to come to you.
Social Networking Sites
It's easy to explain that some disturbing content is posted by people who are sick or criminal but this falls down when your child is visiting social networking sites or video posting sites (the minimum age to join these sites is around 13-14) and they see graphic pornography, violent videos and other disturbing graphics posted by people who they know and presented as funny, cool and exciting.
The NSPCC is working to get these sites to monitor the content they host more closely but that solution is a long way down the line. Social Networking sites currently rely on users to report inappropriate content which can then be removed. However as most users on these sites are teens and younger adults they are unlikely to report their friends' postings as inappropriate.
Peer pressure is a powerful tool but encourage your child to delete this kind of content from their profile – even if it is sent to them by friends. Our teens need to understand that just because something is funny doesn't mean it is right, and if it is disturbing then it's almost certainly wrong.
You might also like...