The Internet, Your Teen and Dating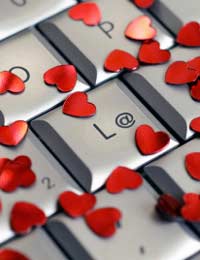 Managing teenagers is difficult. It's a time of rapid changes, testing boundaries and hormone charged emotions. A major part of teen life is taking the first steps into the world of dating and it's an area that has caused generations of parents and teens heartache.
In recent years the internet has made an already sensitive area even more complicated. Your teen can meet new people, learn to flirt and fall in love, without ever having to leave the house. So how can you keep your teen safe and happy, and parent-teen rows to a minimum?
Set Boundaries
Having a good relationship with your teen is all about boundaries and when it comes to the internet, and dating, this is especially true. If your child has internet access you've probably already discussed what they are, and aren't, allowed to use it for. When they get to an age where they're starting to think about 'dating', talk to them again about what those boundaries are.
There is no set age where it's appropriate to let your teen start dating because every child is different but you need to be happy that they understand the rules. Are they allowed to go on dates with other teens at school? On their own, or only with other teens? Do you need to meet them first?
When we introduce the internet to the equation it becomes even more complicated. At what age are you happy for your teen to have a personal email address? And is it totally private? Can they 'chat' with people they've met online? And what about meeting them?
Often prohibiting your teen from doing anything will backfire – especially if they're computer savvy. If you set clear boundaries instead your teen at least knows where the lines are, and they will (hopefully) not stray too far over them.
Social Networking Sites
The growth of social networking sites over the past five years has been huge, and many teens (particularly boys) use them to meet and flirt with other teens online. At their most basic social networking sites are tools that allow friends and groups of people with common interests to share photos, experiences and keep in touch.
Unfortunately these sites are self moderated so the content can be explicit and inappropriate. If your teen has a profile (their own page) on one of these sites keep an eye on the content and the privacy settings. Talk to your teen if you think there is inappropriate content on their page.
If your teen wants to meet someone they've met on a social networking site talk to them about what they know about this person. When it comes to the first meeting go with them. They might not be very happy about it but it's (probably) better than not being allowed to go at all!
You've Got Mail
Chatting, and flirting by email or instant messenger is far easier than dealing with another person face to face so things often move far faster leaving your teen open to heartache, and potentially dangerous situations. While the dangers of internet relationships are clear to most adults they are less so to teens.
You should be able to trust your teen with a private personal email address but explain to them that you reserve the right to read their emails if you think they are in danger, or acting out of character. Don't just read them out of curiosity, often you'll wish you hadn't!
Keep Communicating
The key to navigating the pitfalls of teen dating is communication. If you're unhappy with something explain why, and if they disagree let your teen explain why or what they're doing. You might find a happy compromise.
Make sure you talk to your teen, especially girls, about the dangers of online predators. Most teens today are aware that paedophiles use the internet to groom potential victims, but being aware of the possibility and recognising the behaviour are very different.
Online predators will usually move to personal questions far more quickly than real teens, and their language will be different. Drum it in to them that they should tell you about any behaviour that makes them feel uncomfortable, however insignificant it might seem.
Puppy Love
One of the hardest things for a parent to deal with is seeing their teen heartbroken for the first time. The internet doesn't change that but be aware that your child might be feeling all the emotional turmoil of a 'real' relationship with someone who you don't even know about because they only exist online.
You might also like...