At What Age should I Teach my Child to use a Computer?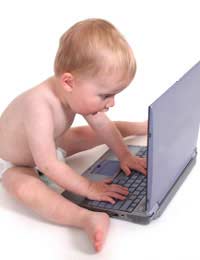 In a world where we increasingly rely on computers for everyday tasks it is important to give our children the best possible introduction to computing. But what is the best introduction, and more importantly, when?
Computing From Birth
There is no definite age at which your child will suddenly be ready to use a computer; all children develop at different rates, and in different ways. At a very basic level you can introduce your child to the computer at only a few weeks old. Just by having your baby with you while you use a computer will help it register as a familiar object.
At six months babies become aware of sounds and pictures but it's not until around two and a half that they begin to understand the relationship between the keyboard and the activity on screen. Introducing your baby to your keyboard before this is more likely to end up with a badly battered keyboard.
Too Early?
There is much discussion over whether pre-school computer use might have a negative impact on child development. There is evidence to suggest that pre-school computing can limit imagination (for example the child can manipulate an existing image but not create their own) and prevent the development of social interaction skills.
Many experts believe that three is young enough; others believe that if computer time is kept to short bursts it can significantly improve later technology skills.
Bear in mind that a computer won't teach your child to play sports, to manipulate different materials or to make friends. But short bursts of computer time might give your child a head start at school.
Essentially it depends on the child.
How To Use The Computer
Many preschool computer games and websites introduce the basic idea of cause and effect. This might be as simple as 'if I press this button I hear this noise', in much the same way as more traditional kids' toys operate. By introducing this concept at a young age, children are then able to grasp more complicated games, puzzles and activities by around age four.
Early years' computer use should always be supervised. Think of your child's computer time as time you spend together, rather than as an electronic babysitter. By playing together you introduce computing as a social activity rather than a solitary one, and you're on hand to make sure they're getting the most out of the experience.
Try to get your child into creative craft and science projects rather than just using the computer to play games. Some kids' websites have great activities pages that will get them thinking outside of the computer environment, they could be anything from colouring in to maths puzzles but they go a long way to make early years learning fun.
Computing On Their Own
As a rough guide a child is ready to use a computer on their own when they understand how to use a mouse. They won't be ready to go online independently until they have a degree of reading ability as even the most child friendly websites have basic text.
When you decide your child is ready to use the internet unsupervised set strong ground rules for what they can and can't do, for example you might not want them downloading files onto the computer without your permission.
For easy access, bookmark their favourite sites and show your child how to find them. It is always a possibility that they might come across something inappropriate but a good 'nanny' software should make this less likely.
Give Them Boundaries
All children need good boundaries, and establishing good computer etiquette early on will help in later years.
Teach them to treat the computer gently, and limit young kids' computer time to less than 30 minutes. Very young kids are unlikely to want (or be able) to sit still for longer than ten minutes so let them decide when they've had enough.
When they start computing on their own get them used to asking before they takeover the computer. It's a good idea to have the computer in a family area of the house as well so you can keep an eye on how their computer time is being spent and, if necessary, steer them in a different direction.
There may come a time when your child knows more about the computer than you do – although this brings up a whole new set of challenges at least you can be happy you got them off to a good start!
You might also like...