Your Teen, their Future and their Digital Footprint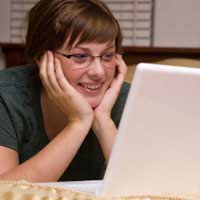 Most parents have talked to their teens about how to use the internet, and which types of sites they are and are not allowed to visit, but increasingly parents are also concerned about the way their teenage children are presented online.
Any content posted by you, or about you, becomes part of your 'Digital Footprint'. Unlike normal footprints your digital footprint is largely permanent so it's important to be aware of what it says about you.
Check Your Teen's Digital Footprint
Do you know what your child has been up to on the internet? The simplest way to find out is to look them up on a search engine. Use any nicknames or screen names that they use as well as their real name. If they have profiles on social networking, photo or video share websites visit these as well.
Talk About Privacy
Most teens are relatively sensible about giving out personal information (like phone numbers and addresses) over the internet because they've grown up in a world with online predators. However they are perfectly happy to display their conversations, social activities and photos to the world, with no thought to what happens to all this information and who is looking at it.
Around 60% of teens post photos, blogs and other information online and much of this content is freely available for anyone to view.
Most content share sites have privacy settings to limit who can see them and whether they will come in search engine results. While you might prefer your teen not to have an online presence at all, at least if it is only available to his/her 'friends' it is controllable. Unfortunately a lot of teens will accept all friends' requests, regardless of whether they actually know each other.
Explain The Consequences
To a teenager their online reputation is all about right now. They care how they are seen by their friends and peers, and posting content is all about building that reputation. Unfortunately digital footprints last a lot longer than adolescence and in America there has been a spate of stories about potential employers and colleges rejecting applicants based on how they appear online.
Talk to your teen about how they want to be seen by others, and remind them that adults use the internet as well as their peers. While they might want their friends to see photos of them drinking or being 'wild', many of them don't want their teachers, your friends or other relatives to see them that way.
Clean Up
Your teen can control the information that they post, but there isn't much you or they can do about what other people post about them. Most websites have a 'report' option to request inappropriate content is taken down but this is usually for offensive material rather than just because you don't want a photo of your child acting like a teenager posted online.
As a first point of call ask the person who posted it to remove it from their profile (or better yet get your teen to ask). Most of the time this works and if it doesn't you can take it up with the site owner. If you're really worried about your teen's digital footprint there are reputation management companies who will 'clean up' your (or your child's) online reputation for you.
The Digital Age
Today's teens are the first to have grown up in a truly digital age. They will be the first to be properly digital adults and as such the world they will live in will have different expectations.
It is impossible to make no trace on the internet and would be a thankless task to keep your child footprint-free (and probably end up looking suspicious). The best you can do for your teen is to make them aware of the legacy their online activity will leave, and the possible impact that might have on their life.
You might also like...
Growing up in a digital world, kids take it for granted, and usually pay little attention to the footprint they leave behind. They all too often think nothing about giving out information that can be too personal, and don't consider how it can be used. That's the main reason a good talk with them (repeated regularly) is vital, as it can expose your whole family to problems.
Wendy
- 25-Jun-12 @ 10:29 AM