Getting the Right Life/Computer Balance for your Family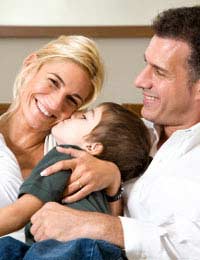 In these days of online banking, shopping, education, Instant Messenger and computer games it can seem like you and you family are always waiting for someone to finish on the computer. If you're trying to get a better computer-life balance for your family consider some of these guidelines.
Managing Your Computer
Much the same as television the computer can easily start to become the focus in your home. The only difference being usually only one person is using a computer at a time while at least you can all watch TV together.
Try to limit the amount of time your computer is on each day. Depending on the age of your children, and your family's schedule, assert a rule that no one is allowed to used the computer between 6 and 9 (or 7 and 10). That way the kids can do their homework and play online before dinner and you (and your partner) can use it after the children are in bed.
Bear in mind as well that the recommended maximum 'screen time' is two hours per day (three at a weekend) and this includes TV.
Things You Can Do Together Using The Computer
Finding things you can do together on the computer will lessen the anti-social nature of computer use. Whether you play multi-player games, or work on a creative project together the computer can become a family occupation rather than something you only ever do in isolation.
By making the computer a more family focused tool your kids are more likely to grow up with a healthy relationship with it, rather than seeing the computer as something you do alone and somewhat secretively. They are also less likely to put the family computer to inappropriate use.
Get Your Kids Off The Computer
For a properly balanced life, especially for kids, you need to get your kids off the computer and involved in other activities. If you struggle to interest your child in anything other than computer games try to match their activities to their favourite games. For instance if they enjoy fantasy games and quests send them on a treasure hunt or to a Dungeons and Dragons style after school club. If they are into playing sports games try to get them interested in the corresponding sport.
If you can spare the time at weekends try to do something physical as a family. It's harder for kids to spend time playing outdoors these days because of security fears so make the most of the time you have together to get them out in the fresh air.
Teach By Example
You can't expect your children to have a balanced life if they see you at the computer in every available minute. Try to limit your own computer time to when your children are out, or in bed. If you work from home using a computer make sure they understand when you are working and when the working day has finished. Your work-life balance is as important as theirs in helping them to group up with a healthy attitude towards computers.
You might also like...