Managing Your Family Computer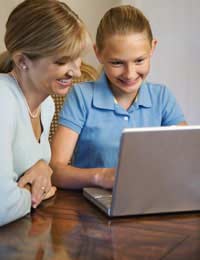 Around two thirds of UK households have a home computer with Internet access. If you have a computer at home and your children are starting to get interested in using it you might need to start thinking about when and how you're going to let them get started.
When Is It Time?
Children develop at different rates and have completely different interests. If your child doesn't show any interest in your computer leave them to get on with whatever they are into. It'll keep your computer safe for longer and your child free of eye strain for a few more months or years.
When they do decide they want to copy what you're doing try to moderate your computer time and type of use. If you work from home and they see you spend hours at the computer try to explain that you're at work and that the computer is part of that. If possible have the computer set up in a 'work area' or study so they understand that this is a separate area where work, not play, happens.
If your child sees you at the computer playing games or surfing the Internet they will want to join in. From about three, children should be able to understand what they're seeing on screen and enjoy playing pre-school games or looking at pictures online under your supervision.
Time To Go It Alone?
When your child is old enough to be allowed to use the computer unaided you should make sure your computer is set up to protect your files from them, and to protect them from anything they shouldn't see. When this happens will vary, but for most children it will be at around four. If they can use and understand a mouse it's a good indication that they are ready.
Set up separate user profiles for all your family members and password-protect them. This will keep all your files separate and you will be able to block your child's access to the Internet – either completely or limited to sites approved by you. You can also, for younger children set up their profile so that their favourite games and sites are easy for them to find on the desktop.
Filtering And Monitoring
When your children get a little older they will want private email and less restricted access to the Internet. Internet filtering and Monitoring (or Nanny) software can give you some peace of mind as it will block access to obviously inappropriate material and give you a report on what your child has been doing on the computer and where they have been going online.
Even if you trust your child not to look at porn or other age restricted sites you might not want them spending their computer time chatting to friends or watching videos and playing games. Monitoring software works largely because they know that you will know if they haven't been doing their homework! It's a bit like a speed camera in that it moderates their behaviour.
Downtime
If you have a busy family life with more than one person trying to get on the computer it can seem like it's never turned off. To guarantee that you get some family time that doesn't focus on the computer give your PC a few hours off every day. Allocate a couple of hours each evening as 'downtime' when the computer is turned off (and ideally the TV too). This will give you all time to rest your eyes, stretch your spines and talk about who's turn it is to wash up.
You might also like...