Introducing a Pre-Schooler to a Computer: A Case Study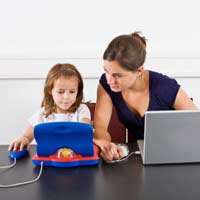 Preschool computer use is an area of debate. How do you prepare your child for school without inhibiting their development in other areas? This case study looks at one family and how they introduced their pre-schooler to computing.
An Early Interest
Paul lived in a house with a home computer set up in the living area and which both his parents used regularly to check emails, pay bills and shop online so the computer had always been as much a part of his home environment as the TV. By eighteen months he had become interested in the computer, especially when it was in use.
His parents were concerned that computer use at such a young age might have a negative effect on his development so put him off for a few months longer.
A Toddler Set Up
After doing a little research Paul's parent's bought a reconditioned computer especially for Paul (this seems a generous gesture but was largely motivated by wanting to protect their own more expensive computer). They set this up with a special toddler keyboard at a small table with a chair to try to get Paul in the habit of sitting correctly at the computer.
It is widely agreed that poor postural habits developed as children will cause problems in later life.
Little Bursts
Paul loved his computer, and would happily spend long stretches of time playing once a programme had been launched for him. His parents noticed though that after spending time on the computer Paul would be irritable and over excitable. They decided to enforce a time limit of no more than 10 minutes at a time, and no more than three times per day.
Because Paul couldn't turn on the computer or launch his favourite programmes it was easy to enforce this rule (at least for the foreseeable future).
Part of a Varied Lifestyle
Paul's parents had been concerned that computing might detract from more social or physical activities so they tried to balance the time spent on the computer with at least an equal amount of time spent outside playing with friends.
As Paul got closer to school age he learned how to turn on the computer and using the mouse could find and launch his favourite programmes. Because the computer was his alone his parents didn't need to worry about him interfering with important data or inappropriate content. They created short cuts to his games and activities on the desktop so he could become fairly self sufficient.
Going to School
By the time Paul started primary school he had been using a computer for nearly two years and was a confident computer-user. Using special toddler software he had learned the colours, numbers, and basic shapes as well as recognising some simple words. In Paul's class about half the children had used computers regularly before and the teacher noted that these kids were more confident in picking up new concepts on the computer than the children who had not used them as often
What do Paul's parents think?
Now a healthy, active four year old, Paul has many interests. His Mum, Annie, is happy with the balance of how Paul's time is spent and thinks that their slowly but surely approach to introducing him to the computer was a success.
Annie says, "I can't speak for other children but Paul responded really well to using the computer, especially once we'd worked out the right time limit for him. His favourite computer activities change depending what he's into at any given moment. This week it's all trains, trains, trains! From experience I think that the most worthwhile programmes are the ones that let him learn through exploring. Some of the games and activities were a bit too restrictive – there was a right or a wrong answer – which gets boring pretty quickly because it's boring to be right all the time, but it's no fun being wrong! Paul's favourite activity for a long time was a really simple programme that demonstrated cause and effect and introduced him to colours and sounds and shapes. He loved it."
You might also like...