ADHD and Computers: A Case Study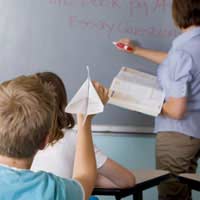 ADHD affects thousands of children, teens and adults in the UK. ADHD can have far reaching effects on sufferers and those around them as it can lead to aggressive ant-social behaviour and, when untreated, can spiral out of control. It is thought that around 20% of children suspended from school are ADHD sufferers
Until recently the only recognised treatment for ADHD was prescription drugs which although effective had negative side effects. Recent studies have shown that computers can play a big part in helping ADHD sufferers focus.
Running Out of Control
Simon was an early teen who was disruptive and sometimes violent in school and running wild out of school. His school suspected that he was an ADHD sufferer and recommended medical intervention.
A Special Programme
Rather than being prescribed drugs Simon was entered into a special programme for ADHD sufferers that used a combination of behavioural counselling, nutritional advice and attention training with special computer software that used a video game style interface to monitor his progress.
Learning to Sit Still
To begin with Simon could only focus for around a minute during his computer training sessions but after a few months he was working for 45 minutes at a time and seeing huge improvements in his schoolwork and behaviour.
How the Computer Helps
Because the computer (with the right software) is interactive it demands a higher level of concentration than more traditional learning methods. Flashing images and sounds that demand a response are more effective than static diagrams, tables or even a teacher 'droning on' in the background. Using a video game style interface further enhanced the experience as Simon could see his own progress as he achieved small goals.
Breaking the ADHD Cycle
Using a reward based learning system broke the cycle of Simon being told that his behaviour was bad, and that his learning progress was slow. One of the major problems with ADHD sufferers is that they are misunderstood, causing feelings of frustration and anger leading to bad behaviour which in turn leads to heightened activity and even less ability to concentrate.
Six Months Later
After six months Simon's school work had improved to such an extent that he was learning at the same level as his peers, if not in the same way. As part of a holistic approach including dietary changes and counselling to understand how to control his behaviour the use of computers has enabled him to live a more normal life. Untreated ADHDWhen it goes undiagnosed and untreated ADHD can be hugely disruptive. There are strong links between ADHD, poor educational achievements and crime. Roughly six percent of children and three percent of adults in the UK suffer from ADHD but around 25% of the prison population are ADHD sufferers showing the disproportionate level of ADHD offenders.
Simon's Future
Some children grow out of ADHD, but many adults still suffer its effects. Simon's future is far brighter now he has the tools to manage his condition, and understands why he behaves the way he does. This holistic approach, taking in psychological, nutritional and neurological issues puts him in a better position to face the future than prescription drugs to control his behaviour would do.
You might also like...
Sounds promising, as we would prefer the non-medical route for our 9-year old son. Does anybody have any links to the software mentioned (or any other kind of apps which may help)
JHH
- 16-Jan-12 @ 4:56 PM