Is my Child Addicted to the Computer?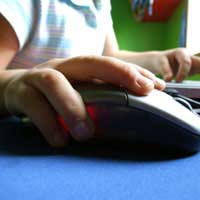 Almost all kids love computers and would happily spend hours each day chatting with friends online, playing games or downloading the latest craze. But how do you know when a healthy enjoyment slips into addiction? And what can you do about it?
Identifying Computer Addiction
If you are worried about the amount of time your child is spending on the computer this checklist could help you to identify if they are exhibiting addictive characteristics.
Does your child show signs of extreme excitement at the computer?
Does your child become distressed if you prevent them from using the computer?
Is your child spending increasingly long periods of time at the computer?
Has your child stopped socializing with friends and family?
Is your child irritable when not on the computer?
Do you think your child lies about the amount of time he/she spends on the computer?
Is your child struggling with their schoolwork?
If the answer to all these questions is yes then your child might have a problem. Left untreated Computer Addiction can lead to anti-social behaviour, self esteem issues and depression.
In isolation wanting to spend hours playing a new or exciting game is not necessarily a sign of addiction. Games are designed to hook the player in and keep them coming back again and again to either beat their previous score or reach a higher level. Most players will experience an element of not wanting to stop playing but will accept that the computer cannot take up all their time. An addict will find ways to rationalise the continuation of the game, or lie about how long they have been playing.
How To Treat Computer Addiction
The first step is to look at when and how your child uses the computer. Is there a regular pattern to the use or is it triggered by something happening (a fight with a sibling, a bad day at school, emotional stress at home).
Put some rules in place to reduce the amount of time your child spends on the computer, but don't totally ban them from using it. Taking the object of the addiction away will not solve the problem. Computers are everywhere today and a child will be able to get access to one whether it's at school, at a friend's houses or at internet cafes. For a long term solution you need to teach your child how to control their computer use, however hard that initially sounds.
As a computer addict your child will struggle with reduced access so try to find alternative activities to occupy their time. Experts recommend that if addicts have specific activities they pursue on the computer an offline alternative is found. For example children who enjoy role-play fantasy games might equally enjoy reading fantasy fiction or playing traditional fantasy board games.
In extreme cases limiting the time your child spends on the computer will not work. As with all addictions there is specialist help and counselling (for you and your child) available which can help you break the addiction and teach your child the tools to deal with it independently.
You might also like...