Train your Child to use the Computer Healthily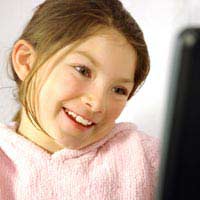 Computers are our children's future and if we can get them off to a good start they will have years of happy computing ahead of them. So how do you train your child to use the computer and use it healthily?
The Right Posture
If you use a computer regularly you'll know how easy it is to slump over your keyboard, and how quickly that translates into back ache. Get your child into good habits straight away and they won't have to unlearn the bad habits in later life.
Children's skeletons are still developing so it's even more important that they sit in the right position. When they're using the computer, make sure that it's set up at the right height and distance away from them. When the have their hands on the keyboard their elbows should be roughly at right angles.
Ideally they should be able to reach the floor with their feet. If they share your computer (which most children do) get them a foot stool or step so you don't have to take apart your whole computer set up every time your child wants to use it.
It might also be worth investing in a child's keyboard. Not only are they easier to use with bright coloured keys but the keys are specially weighted for children to use. Having a child's keyboard will also keep your own keyboard in working order for much longer!
Even with the right set up it's easy to slouch so keep reminding your child to sit up straight. It might seem tedious but it will sink in and it'll make a huge difference in the long run.
Protect Their Eyesight
Staring at a computer screen for extended periods of time can cause eye strain. While this doesn't necessarily lead to long term damage to your eyesight it can cause head aches, dry and itchy eyes, blurriness and irritability. Eye Strain is as much a problem for children as adults but their eyes will get tired more quickly, and they might not recognise the symptoms.
Make sure your child takes a blink break at least every ten minutes. Make it a fun part of using the computer where they stop what they're doing and blink for 30 seconds. Then shut their eyes for 10 seconds and then get back to the computer.
Computer games are the worst culprits for eye strain as the action is more intense and there is no natural break to rest their eyes. If necessary set a timer to go off every ten minutes to get them in the habit. Most modern games can be paused or saved so don't listen to any excuses!
For optimum eye health children should be sitting about 50cms away from the screen, with the screen tilted down by about 15% to reduce glare. Surprisingly, the best lighting for computer use is fairly muted. Bright lights just add to the glare rather than making it easy to see.
Regular Breaks
As well as regular 'blink breaks' get your child used to taking full body breaks every half hour or so (although with young children they should only be using the computer for 30 minutes each day anyway). Get them to use a body break as an opportunity to stretch and get any kinks out of their spines.
Get A Balance
The healthiest way to use a computer is in moderation and as a small part of a childhood lifestyle that includes outdoor play, sport, and other social activities.
You might also like...