Quiz: Do You Know What Your Child is Doing Online?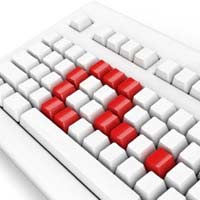 The Internet can be an amazing learning tool and there is a lot of content that is great for kids, but how do you know what your children are really looking at online and if they're safe?
Take our short quiz to find out how much you know about your child's Internet use.
When Your Child Asks if They Can Use the Internet Do You:
a) Let them. It's good that they learn how to use the computer
b) Help them get set up and then leave them to it, you're pretty happy that your Internet security software will keep them safe online
c) Ask them to wait until you can go online with them as well. You feel happier knowing that they're only online with your supervision
Your Pre-teen Wants a Personal Email Address. Do You:
a) Help them get set up with a webmail account, it's great that they can keep in touch with friends online
b) Set them up with an email address to which you have access so you can keep an eye on who they're emailing and block any contacts you don't recognise
c) Tell them that they're too young and they should wait until they're older
You've Recently Bought a Computer So Your Child Can Use it For Schoolwork. Do You:
a) Set it up in their room so they can get on with their schoolwork in private
b) Set it up in the spare room so it's out of the way but you can keep an eye on what they're doing
c) Set it up in the living room or kitchen, you want to know that they're using the computer only for schoolwork
Your Child Has a Friend Who They Have Met Through a Shared Interest Online. They Want to Meet Up in 'The Real World'. Do you:
a) Agree as long as they promise to meet somewhere public
b) Agree to the meeting but insist on going with them on the first meeting
c) Explain to them that it's not safe to meet people who you only know on the Internet and ask them to break off contact.
You Know Your Teen Visits Social Networking Sites and You Think They Might Have Their Own 'Profile Page'. Do You:
a) Leave them to it. It's important to respect your teen's privacy
b) Take a look at their profile page to make sure there's nothing inappropriate on it, after all it is publicly available online
c) Insist that they remove their profile. It's a well known fact that porn and other offensive images are distributed via these sites
How Did You Score?
Mostly As: It sounds like you're a pretty relaxed parent and it's good to encourage your child as they explore new things. However it might be a good idea to toughen up a little when it comes to your child and the Internet. There is a lot of inappropriate material online and sadly many people using the Internet to bully, groom or otherwise mistreat children. At the very least get a decent Internet security system installed.
Mostly Bs: You have a pretty good grasp of the Internet and the dangers it can pose for your child. By maintaining a reasonable and rational attitude to your child's Internet use you are encouraging them to have a healthy relationship with it in the future. Be careful that you don't trust your Internet security software too much, especially as your children get older. A computer savvy child will soon work out how to disable it.
Mostly Cs: You're right to be cautious when it comes to your child and the Internet but by being this strict you run the risk of your child rebelling against you and getting into a dangerous situation. Instead of approaching the Internet as a danger in the home talk to your child about how they should (and shouldn't) use it. Keeping an eye on what they do is a good thing but give them some space to explore.
You might also like...
i do not no what my childs doing online
loughran
- 27-Dec-13 @ 7:04 PM