Bridging the Computer Generation Gap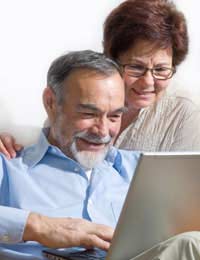 The current generation of teens have grown up with computers and the internet. Their younger siblings have grown up with wireless technology and broadband being as natural to them as breathing and eating. What will the next generation take for granted that we find incomprehensible today?
The rapid development of technology means that we can only just get used to one advance when another is upon is, creating a generation gap between late learners and early adopters.
Pace Of Life
Kids don't understand the concept of writing a letter (apart from obligatory thank you letters to grandparents at Christmas) and why would they? You need to write a draft first because you can't delete what you've written, copy it out neatly, buy a stamp, find a post box and remember to post it. They could have spent a lot longer thinking about what they wanted to say and less time dealing with the logistics if they'd sent an email.
Most children manage to keep in touch with absent friends by email. If you want your child to have a better relationship with long distance relatives then email is probably the most effective method. It's free, instant and easy.
Keep Up To Date
With two thirds of UK households now having an internet connection it's clear that all but the totally technophobic amongst us have embraced the internet – at least tentatively. To stop the generation gap between you and your children widen your need to stay on top of new developments and trends.
There are hundreds of sites on the internet dedicated to new 'stuff', including better software, free plug ins and upgrades. While you might not be very interested in downloading the newest technology it's worth keeping up to date with what's around so that you can understand your child when he or she is talking about Tweets, or Peer to Peer shareware.
Know Enough To Protect Them
If you're concerned that your child's computer knowledge far outstrips your own you're probably right. But you still have more experience in the real world and a greater grasp of the threats that face kids online.
Even if you're only a basic level internet user you can set up monitoring and filtering software (most new software will have an idiot-proof automated installation process) which will help to keep your child protected. Unfortunately a computer literate child will, if they want to, soon work out how to disable this software.
New Ways Of Learning
The Net generation aren't just more able to use new technologies; they approach them in a totally different way. If you give a child or teen a new gadget they will immediately set about find out what it can do by pressing buttons and playing around. This is in contrast to pre-net generations who will set out to find out how to make it do what they want it to do.
For example, give an adult a new mobile phone and they will probably read the manual to figure out the functions they want to use. Give a child or a teen a mobile phone and they'll explore all its functions to see what it's capable of. To bridge the generation gap we need to think more like our children and less like our parents.
You might also like...