Get the Most Out of Your Computer for Your Kids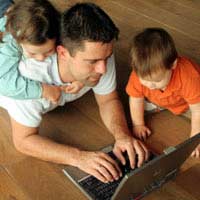 Just sitting your child in front of the computer won't teach them anything, or keep them entertained. To get the best from your computer for your child you need to give them a proper introduction to it, including the how to use it, and what to use it for.
The Right Age
Children grow up very quickly these days and there are some concerns that introducing them to computers too young might take them away from more physically active or social activities. Most experts agree that between two and three, depending on the child, is a good age to start to introduce short periods of computer use into your child's day. Any younger than that and they won't get anything from it.
Introducing your child to a computer later than this won't have any long term lasting damage but they will have to play 'catch up' when they start at school.
The Right Software
For your child to grow up with a useful, healthy relationship with the computer you have to give them the right software. Depending on their age there are masses of choices from pre-school educational packages to creative projects for pre teens and problem solving strategy games for older kids.
Make sure that your child is using the right software for their age range and ability. If games are too young they will be boring, if they're too old they will be frustrating. In the case of teenagers try to steer them away from adult games which can be violent and often have little educational or developmental value.
With the right software you can help your child to develop a range of core skills including improved coordination, strategic thinking, memory and problem solving.
The Right Websites
The Internet has a lot to offer to young enquiring minds and can be a great source of information, education and entertainment. Use an Internet monitoring software package to keep an eye on the websites your child visits and try to steer them in a more constructive direction if you feel it would be of benefit.
For all of us the Internet can be as much a distraction as a benefit, so consider disabling your Internet connection when your children are supposed to be doing homework. This gives them access to the computer but takes away the temptation to waste time playing games or 'chatting' with friends.
The Right Time
For kids to get the most out of the time they spend on the computer it has to be limited. Experts agree that two to three hours screen time each day is enough, including TV and games. For preschoolers keep it to ten minute bursts and,whatever age your child is, make sure they take regular breaks to save them from eye strain.
Excessive computer use can lead to over stimulation which in turn contributes to insomnia, problems with concentration, headaches and possible addiction.
Using the computer can be a positive addition to a balanced childhood but only within sensible guidelines.
You might also like...