How to get Your Child off the Computer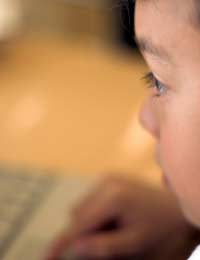 Computers are a big part of our lives, and an even bigger part of our children's lives. But there will be times where it seems that your child is glued to the computer screen twenty four hours a day.
There are many reasons why you might want your child to spent less time on the computer and depending on the reason there is a whole range of solutions.
Computer Zombie
If your child spends more waking time in front of a computer than in front of a human being then you need to restore some balance. Experts suggest that two to three hours of screen time (including TV) is the healthy limit for children. Beyond this and they risk addiction and developing anti-social behaviour.
If you're worried that the computer is taking over your child's life try to find activities that transfer their on-screen activities off screen and into the real world. Many kids will happily spend hours playing sports games on the internet but never actually play the sport.
If you are worried that your child is becoming computer addicted there are support groups who can offer you specialist advice.
Computers and Childhood Obesity
There is growing concern that we're raising a generation of obese children and while this isn't the fault of computers they definitely don't help. In an ideal world children would spend all their free time running about outside burning off calories and exploring the world around them. Unfortunately that isn't always possible and computers have become a replacement for traditional activities.
If your child would rather sit in front of the computer than play team sports try to find other ways for them to exercise. Swimming, running and cycling offer all-round health benefits without the need to be in a team or pay for expensive equipment.
Alternatively there are computer games that involve getting up and active – from dance to tennis to virtual boxing. It might not get your child away from the screen but it will make sure they're getting regular exercise
Computer Gridlock
Sharing a computer is, much like sharing anything, a matter of thinking about others. If you have a computer that you share with your kids remember that, first and foremost, it is your computer and you get priority. Don't be bullied, wheedled or whined into waiting your turn if you want or need to use it.
To simplify computer use for multiple users, plan a computer timetable that the whole family sticks to. If computer use is timetabled you can also keep an eye on the total number of hours your child is clocking up over the week.
Life Outside The Computer
Family life involves a lot more than settling squabbles over the computer and you might be able to turn your computer to good use for getting good behaviour around the home. Set up your own 'internet café' at home. Instead of paying for a half hour of computer time your children earn it by helping around the house. Doing the washing up might get them ten minutes, cleaning the car would be half an hour.
There is one final suggestion for how to get your child off the computer: Turn it off
You might also like...