Social Networking and What it Means for Your Child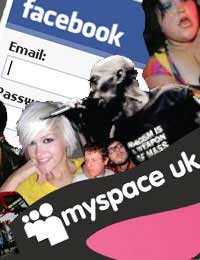 Social Networking has been one of the recent big developments in internet culture and has revolutionised the way people, particularly teens, connect with people.
As parents it's easy to just see the scary side to Social Networking sites and ignore the positives but their influence is so broad that there is little point in simple branding them as inappropriate and banning your child from using them.
The Right Site
There are many Social Networking sites, each with its own focus or personality but essentially they all connect people and allow them to share content.
If your child is under thirteen then he or she should not be using adult social networking sites, however much they claim that 'all their friends do'. The major adult sites have a minimum age requirement and need a date of birth at sign up.
There are child friendly social networking sites on which kids as young as five can 'chat', play games and post photos. These sites require an adult's permission and can be accessed and controlled by you.
Embrace Connectivity
The internet is an amazing tool and our children will probably live most of their lives online. Social Networking sites can connect people from all cultures and countries promoting understanding and growth. They can also allow kids to keep in touch with holiday friends, school friends who have moved away and relatives on the other side of the world.
Fighting this level of connectivity will be like trying to turn the tide so it is more realistic to accept it but impose boundaries to keep your child safe and their privacy intact. Posting photos and messages to friends might seem pointless when our teens meet up every day at school but it is an important way for them to learn appropriate communication skills for the future.
Simple Security
Most children, and almost all teens, are aware of the dangers of internet predators and adjust their behaviour accordingly. It's worth reiterating a few ground rules though to make sure that it stays at the front of their mind.
Never use your full name. Nicknames are fun but they also give you an extra layer of privacy.
Don't give out any personal information or send photos to anyone who you don't know in 'the real world' as well as the cyber world.
If anything or anyone you find on the internet makes you feel uncomfortable tell an adult immediately
If your children are young teens and are starting to explore adult social networking sites it is likely that they will come across adult content.
To limit the volume of inappropriate content they see make sure that their online friends are children. Much content on these sites is circulated virally so if they only associate with other kids their age they are less likely to have access to some of the more offensive content on the internet. This ban on adults extends to adult family members as well.
Etiquette
If our children are to live their lives hand in hand with the internet it's a good idea to teach them web etiquette early.
Make sure they understand that they should never post anything (words or images) about anyone else unless they have permission. It might seem funny to your child to post an embarrassing picture of a friend but it won't be funny to the person in the photo.
Another good rule to guide your children online (and this works for adults as well as kids) is never to post anything that you wouldn't want your mum to see. As they grow up they might live to regret some youthful postings but if all their content is mum friendly it's likely to be acceptable to potential employers as well.
You might also like...